Tara za početnike: medvedi, omorika, liker od kupine i loše obeležene ali prelepe staze
"Moguć susret s medvedom", "Stanište mrkog medveda", "Pešačite na sopstvenu odgovornost" – na table sa takvim i sličnim natpisima nailazili smo na svakom koraku na svakoj pešačkoj stazi na Tari…Piše, takođe, i da je mogućnost susreta s medvedom jako mala, ali to ipak ne ohrabruje previše. Barem ne u prvi mah. I barem ne mene. Posebno me je onespokojila činjenica da info table kažu da, ukoliko vidite medveda, ne treba da pravite nikakav nagli pokret niti zvuk, a meštani sa kojima smo razgovarali tvrde da je upravo suprotno – da treba praviti buku i dreku, od koje se medvedi uplaše i pobegnu, jer divlje životinje, u suštini, koliko god opasne bile, ipak beže od ljudi.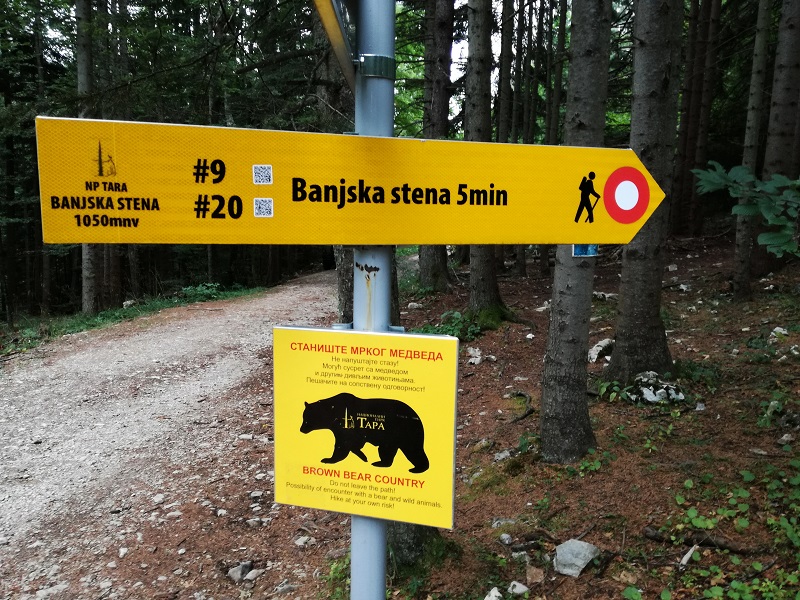 Hodala sam tako pola prvog dana putevima kroz šumu zagedajući svaki veći kamen i panj, i od svakog mi se činilo da je medved; osluškivala sam zvukove, i na trenutke, naravno, bila ubeđena da čujem medveda…Sad mi je smešno kad pomislim na to, ali nakon tih upozoravajućih tabli na sve strane, teško je ne misliti neprestano o medvedima kada se nađete na Tari.
U školi smo učili da medvedi zimi utonu u zimski san, ali definitivno oni često više ne spavaju zimi, jer zime nisu toliko hladne. Prijatelj koji ima vikendicu na Tari mi je pre polaska rekao: "Ma šta ti je, ne treba uopšte da brineš, pa svi ti medvedi su čipovani!" Odlično! Znaće se, dakle, tačno koji me je pojeo, sad mi je lakše…
Ipak, šalu na stranu, Nacionalni park Tara u saradnji sa Biološkim fakultetom u Beogradu započeo je 2006. projekat obeležavanja i satelitskog praćenja ovih životinja. Mrki medved, najkrupniji predator Evrope, zaštićena je vrsta, napori u sprečavanju krivolova urodili su plodom, a fotozamke i tragovi na hranilištima pokazuju da je broj mrkih medveda na Tari porastao poslednjih godina, i sada ih na ovoj planini živi 40ak. Medvedi pretežno noću idu u potragu za hranom, prošle godine zabeleženi su slučajevi da su dolazili skroz do seoskih domaćinstava na Tari i pravili štetu na imanjima, ali dnevni susreti sa medvedima dugo nisu zabeleženi.
Meštani, zapravo, kažu da je opravdanije bojati se vukova i divljih svinja kojih na Tari takođe ima, ali kažu i da ste potpuno sigurni uvek kada sa vama kroz šumu ide pas.
Ja sam, svakako, na kraju odlučila da se neću plašiti, a u tome mi je pomogla i predivna scena koju sam prvog dana svog zimskog boravka na Tari videla – dok smo šetali kroz šumu ispred nas su istrčale dve srne!
Kažem "zimskog boravka", zato što sam letos već bila jedan dan na Tari, u povratku s Perućca. Popeli smo se tada na vidikovac Banjska stena, ali bila je tolika magla da se sa vidikovca nije videlo bukvalno ništa, ni najmanja naznaka prelepog pejzaža koji se sada, prilikom druge posete, po sunčanom zimskom danu otkrio pred nama.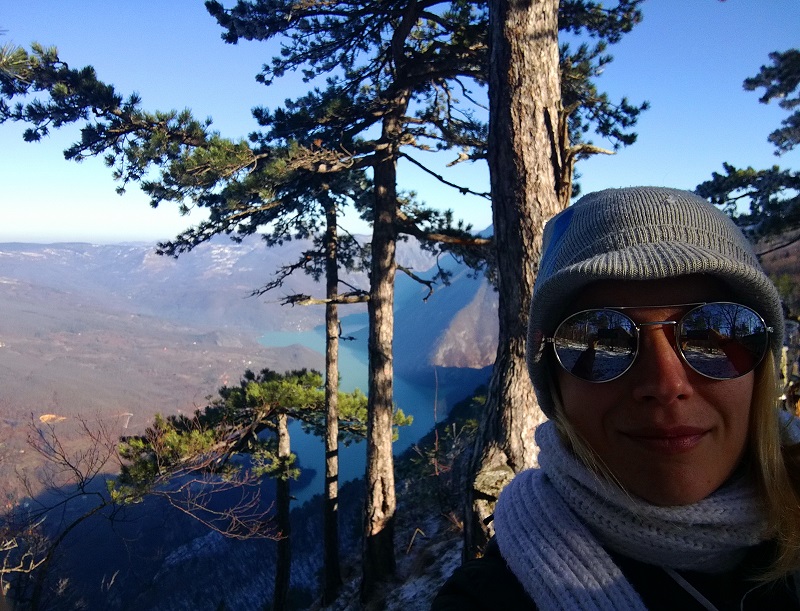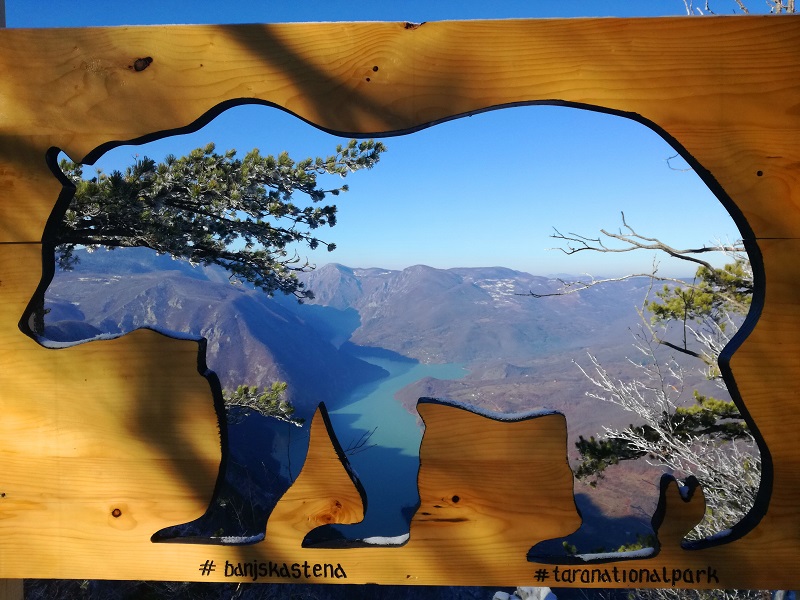 Tara je, jednom rečju, predivna! Nekako polu-divlja, sa velikim turističkim potencijalom koji nije iskorišćen, ali upravo to je čini primamljivom posetiocima kao što sam ja, koji vole netaknutu prirodu i planinarenje.
Druga strana te medalje je to što su putevi na Tari izrazito loše obeleženi, pa provodite sate u kolima vrteći se okolo naokolo ne znajući gde biste išli. Info table, ako ih uopšte ima, postavljene su krajnje nelogično i često više zbunjuju nego što pomažu u orijentaciji.
Čak su i pešačke staze dosta loše obeležene, jer često nije ispoštovano osnovno pravilo markacije – da se sa mesta gde se nalazi markirano drvo jasno vidi sledeća markacija, kako bi se sprečilo lutanje i gubljenje po planini….a izgubiti se na planini nije ni malo naivno, što vrlo dobro znamo mi kojima se to dogodilo (i to na Rajcu, planini na kojoj smo bili više od 10 puta i koju smo mislili da znamo maltene napamet…ali magla i mrak čine svoje, a oni se na planini spuste za tili čas i orijentacija se gubi u sekundi…ali o gubljenju na Rajcu koje sam doživela sa grupom prijatelja sa kojima sam deceniju i po planinarila, pisaću možda neki drugi put.)
Ipak, i pored ovih loših strana, Tara je mesto na koje ću se sigurno u budućnosti vraćati, jer pruža i mnogo toga fascinantnog: šume, jezera, prelepe vidikovce, i neverovatan pogled na reku Drinu u podnožju.
Nemoguće je obići odjednom ceo Nacionalni park jer obuhvata skoro 25 hektara, pa ću se zato zadržati na dva najpopularnija "centra" Tare – Kaluđerskim barama i Mitrovcu.
Da biste ih razlikovali: na Kaluđerskim barama je čuveni hotel Omorika, koji je bio jedan od najsavremenijih u Evropi kada je sagrađen 1977.godine, dok je Mitrovac centar u čijoj blizini su vidikovac Banjska stena i Zaovinsko jezero.
Prosečna visina Tare je 1000 do 1200 metara, a najviši vrh je Kozji rid na 1591 m nadmorske visine. Ovu planinu prekrivaju mešovite šume smrče, jele i bukve, a od drugih planina Balkanskog poluostrva izdvaja je izrazito veliki broj reliktnih i endemičnih vrsta. Posebno značajna i vredna je Pančićeva omorika (Picea omorika), četinarsko drvo iz roda smrča, koja je u kanjonima i klisurama srednjeg toka Drine preživela poslednje ledeno doba.
Zanimljivo je da mnogi Pančićevu omoriku povezuju sa Kopaonikom, zbog toga što se tamo nalazi grob Josifa Pančića i poznati Pančićev vrh, ali omorika zapravo uopšte ni ne raste na Kopaoniku, već je specifičnost Tare. Pančić je za nju čuo na jednom putovanju užičkim okrugom ali nije uspeo da je vidi ni tada ni narednih godina, i pronašao ju je tek nakon 2 decenije traganja, 1875. godine kod sela Zaovine. Po ovom velikom naučniku, inače, naziv nosi i najpoznatiji beskičmenjak Tare – Pančićev skakavac (Pyrgomorphulla serbica)
Mi smo na Tari ovog puta bili smešteni u mestu Račanska Šljivovica, koje je na vrlo dobroj lokaciji, na putu između Kaluđerskih bara i Mitrovca.
U okolini Račanske Šljivovice postoje mnoge zanimljive i lagane pešačke staze, pogodne za šetnju čak i za one koji nisu u preteranoj kondiciji. Tu je, pre svega, brana i jezerce Jarevac, gde ćete videti putokaze za nekoliko staza.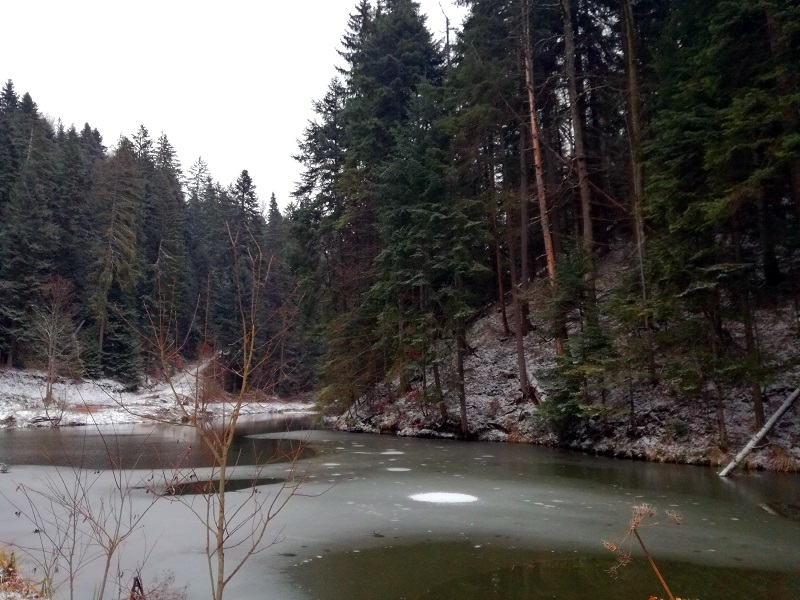 Ako krenete stazom u pravcu Mitrovca (levo), u blizini je spomenik borcima Prve račanske partizanske čete koji su sa tog mesta krenuli u borbu 1941.
Još malo dalje, na 2-3 km od Šljivovice, nalazi se jako lep vidikovac Sokolarica, gde se sa stena pruža pogled na kanjon reke Rače.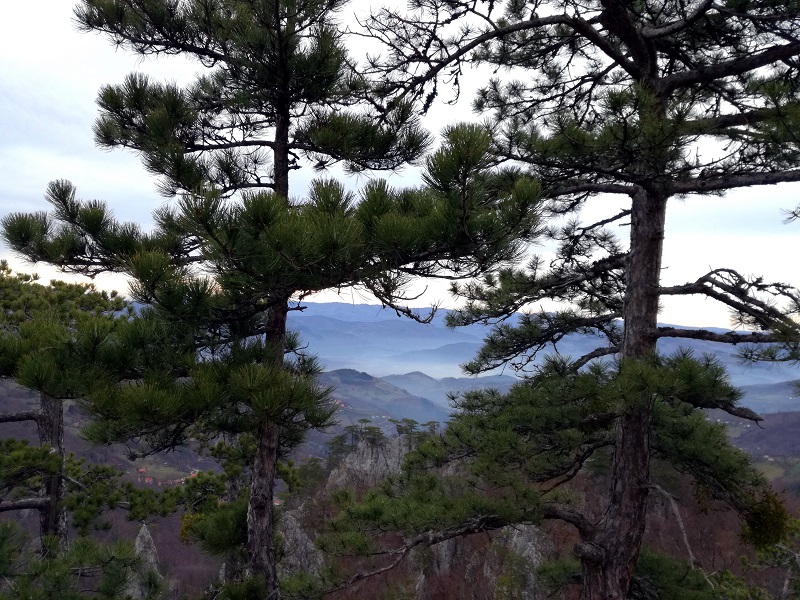 Najzanimljivija staza (i malo duža od prethodnih) vodi od Jarevca u desno, pored potoka, do hotela Omorika.
Ukoliko pešačite tom stazom, ili se na bilo koji način zateknete kod Omorike, pored je restoran Javor – najtoplija preporuka za ručak na Kaluđerskim barama. U enterijeru Javora ćete se osećati kao da vas je vremenska mašina poslala tri decenije unazad, ali baš ta atmosfera Jugoslavije 80-ih daje mu poseban šarm, ambijent je prijatan, konobari su izrazito ljubazni a hrana – savršena, prava domaća.
U Račanskoj Šljivovici postoji i skijaški klub "Sunčana padina", i malena staza za početnike, koja, doduše, nije radila jer nije bilo snega, ali kuća pored je jako zanimljiva, izgleda kao da je naslikana akvarelom.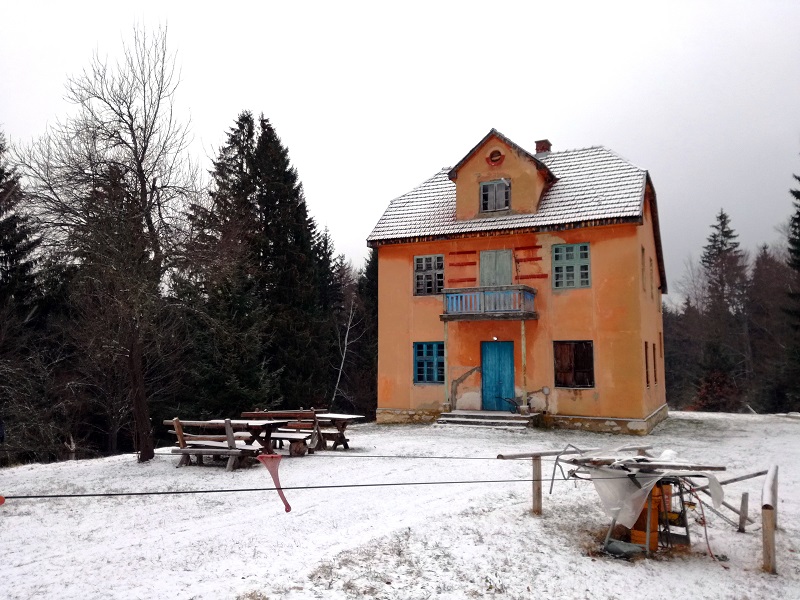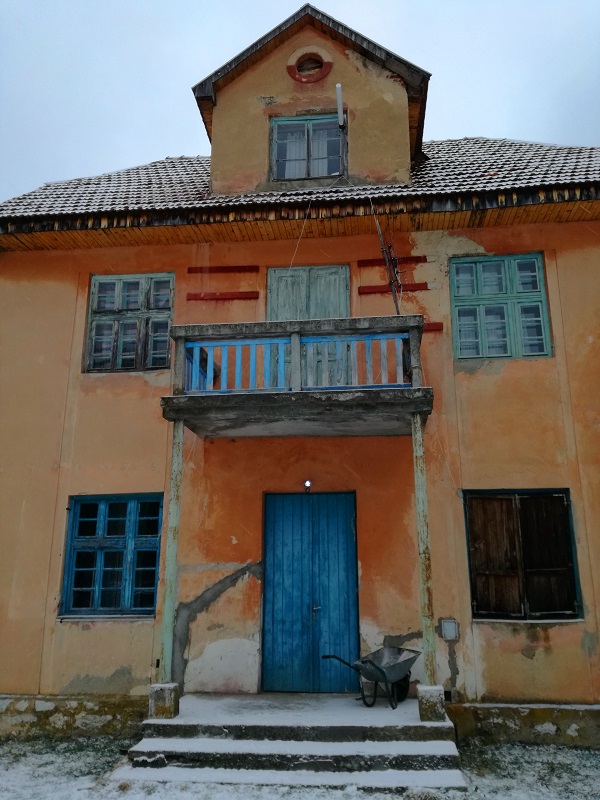 Iz Račanske Šljivovice na Mitrovac dolazi se kolima za 20ak minuta, i odatle obavezno idite na vidikovac Banjska stena, kao i na jezero Zaovine, na kome se, tokom letnjih meseci, možete i kupati.
Ukoliko želite da ponesete neku sitnicu kao uspomenu sa Tare, možete je kupiti na Mitrovcu ili kod Omorike na štandovima sa suvenirima.
Nažalost, boljka koju imaju gotovo sva turistička mesta u Srbiji nije zaobišla ni Taru – nedostatak lepih suvenira i magneta koji bi zaista podsećali na mesto sa koga su stigli. Umesto toga, tu je gomila drvenih predmeta sa npr. Mikijem Mausom i drugim likovima iz crtaća. Medveda, koji su prva asocijacija na Taru, gotovo da i nema na suvenirima i magnetima – osim ponekog koji lebdi iznad planine loše isečen u fotošopu, ili onog iz crtaća Maša i Medved (zajedno sa Mašom), ali zato je tu pregršt magneta u obliku sova. Pitala sam prodavačicu zašto se forsiraju sove kad one, iako ih ima u šumama Tare, nisu uopšte prva asocijacija na ovu planinu, a ona mi je odgovorila: "Vlada prava pomama za sovama! Ljudi već godinama stalno traže i kupuju sve što ima nactanu sovu." Odgovor me nije ni malo iznenadio, jer prva stvar koju jedan turista u Srbiji primeti je nedostatak autentičnih i smislenih suvenira (čak i u Beogradu) jer se forsira "ono što ljudi traže", pa sve i kad je to nešto potpuno besmisleno.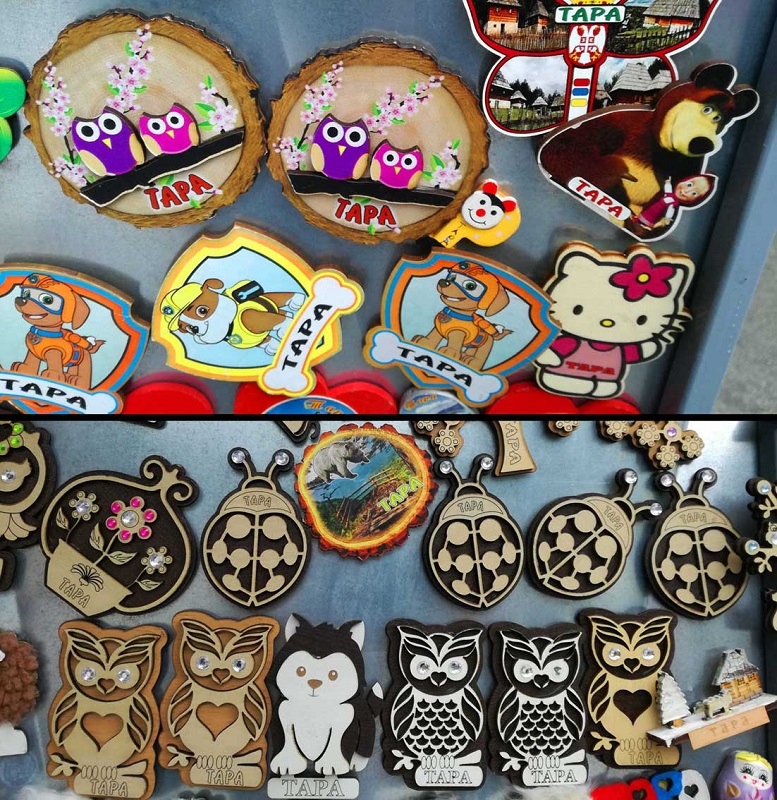 Ipak, ono što sa Tare možete poneti a što je zaista autentično i lepo jesu domaći proizvodi – likeri od kupine, maline, kupinovo vino, slatko od šumskih jagoda i drugog voća, razne odlične domaće rakije, med, i moja od nedavno omiljena – kopriva u medu, koju sam skoro otkrila na planinarenju na Homolju.
Ako niste smešteni na Tari već ste samo u prolazu, do Mitrovca možete stići i iz Perućca, krivudavim putem punim kamenja od odrona, ali će vam strah od pada kamena na šoferku odagnati prelepi pogled na Drinu na nekoliko vidikovaca dužinom puta.
Upravo tim putem smo se mi letos prvi put popeli na Taru, nakon jednog fantastičnog vikenda provedenog na splavu na Perućcu.
Boravak na jezeru Perućac je definitivno jedna od top preporuka za leto! Stigli smo na splav koji smo iznajmili uveče po mrklom mraku pa smo samo naslućivali lepotu predela, ali kada nas je prizor dočekao ujutru – osećaj je bio neverovatan. Mogu slobodno reći da se ne sećam lepšeg jutrnjeg pogleda u skorije vreme, i veće relaksiranosti od one koju boravak na Perućačkom jezeru pruža. Voda je hladna, ali moguće je kupanje u julu i avgustu, a može se iznajmiti i čamac. Koliko smo uspeli da primetimo, na splavovima okolo su uglavnom bili pecaroši, ali postoji i pontonska plaža otvorena za posetioce koji nisu smešteni na samom jezeru.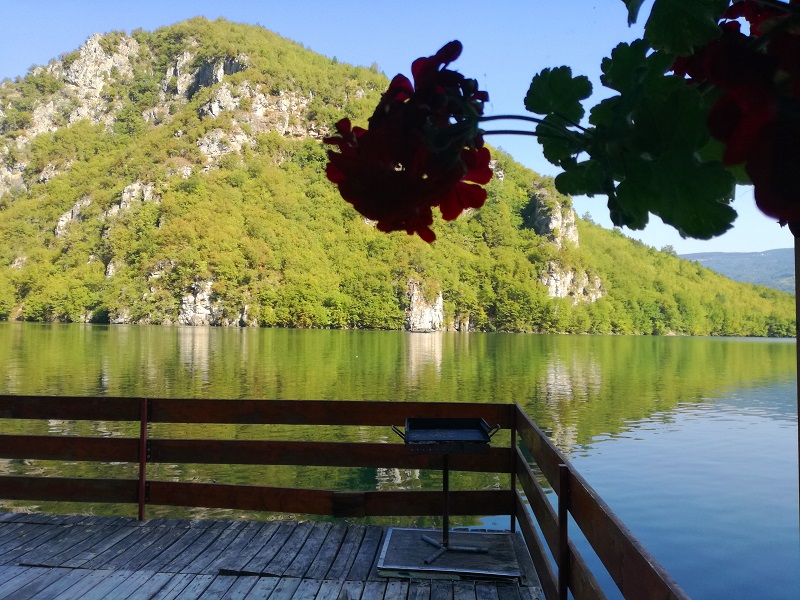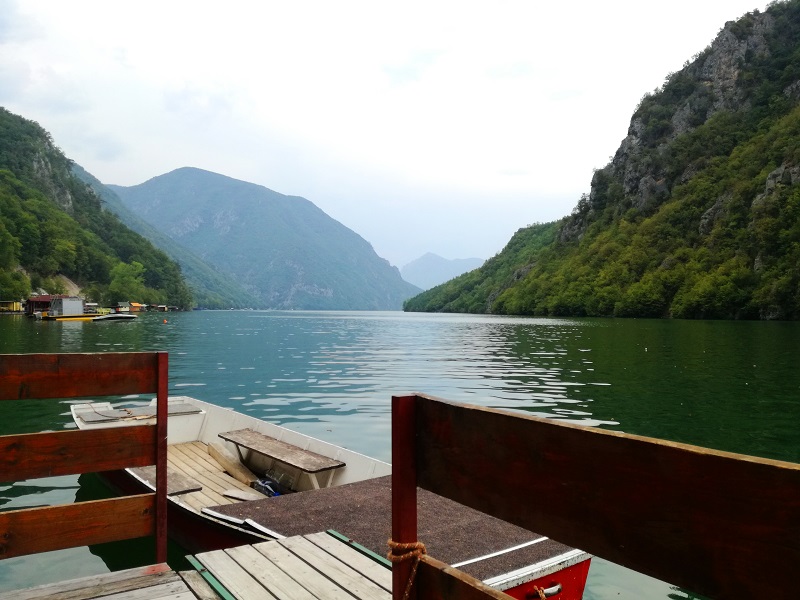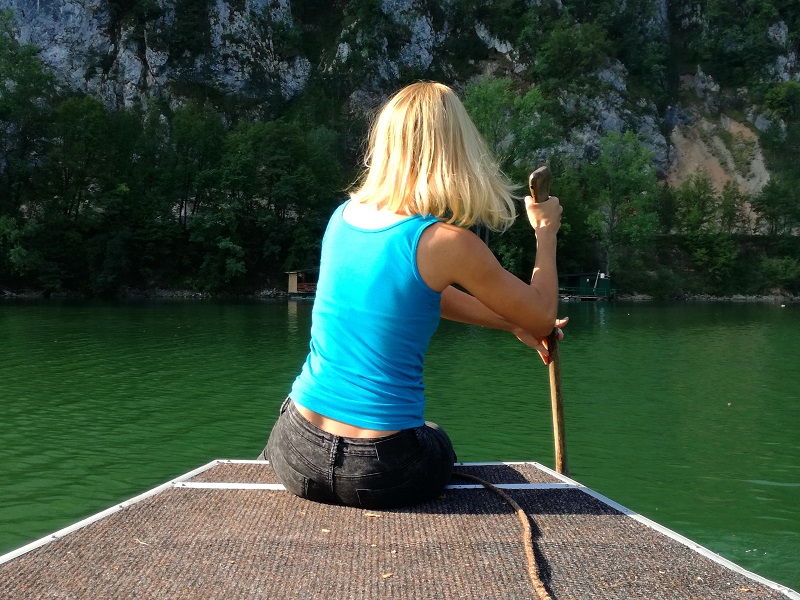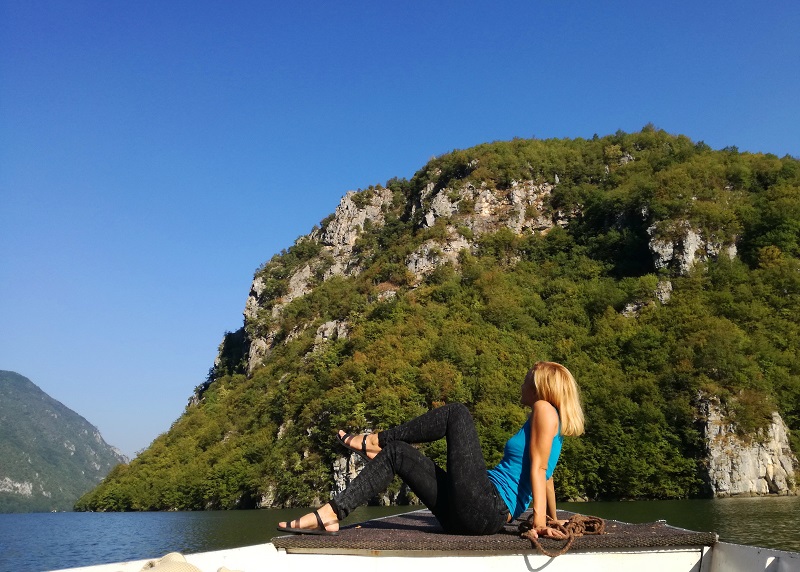 Nastalo 1967. pregrađivanjem toka Drine zarad hidroelektrane "Bajina Bašta", Perućac je veštačko jezero i na njemu se nalazi najviša brana u Srbiji, visoka 89 metara. U mestu Perućac izvire i reka Vrelo, jedna od najkraćih u Evropi, dugačka samo 365 meatara, pa je zato zovu i – Godina. Uliva se u Drinu vodopadom visine 10m, a baš na tom mestu, iznad rečice i vodopada, nalazi se restoran Vrelo.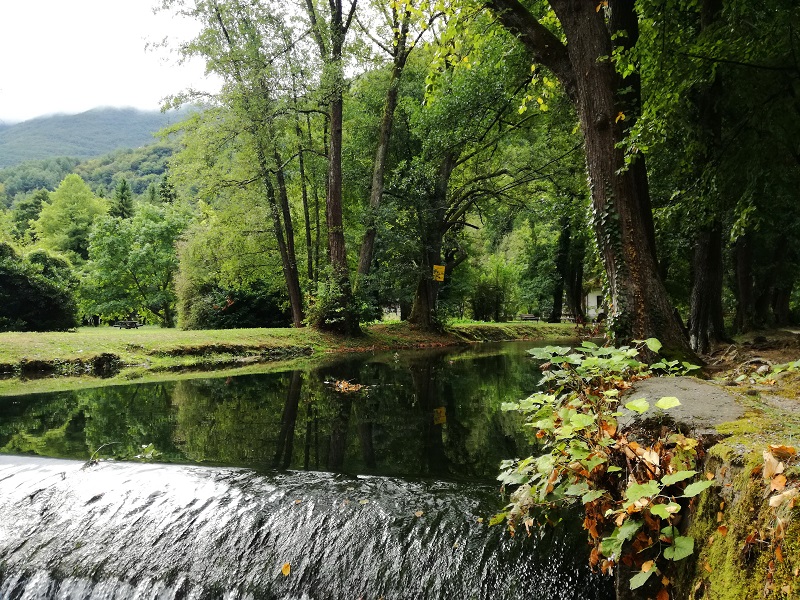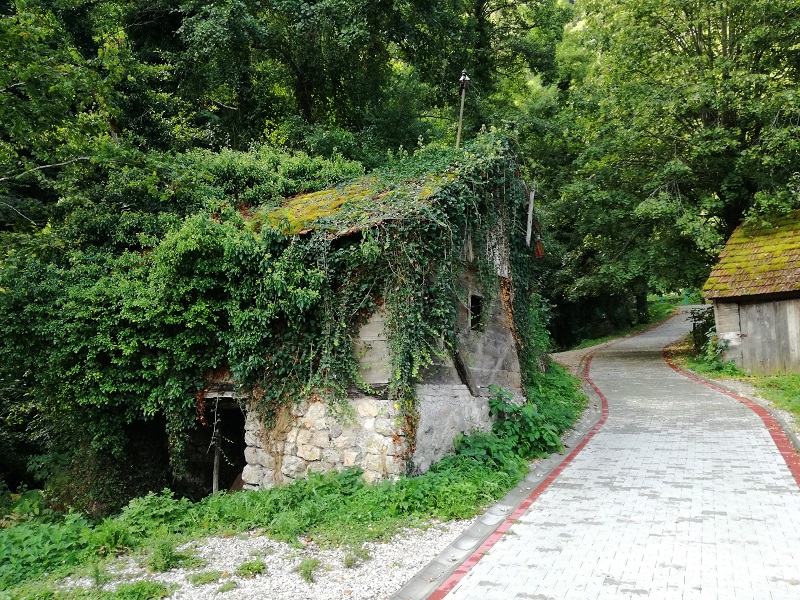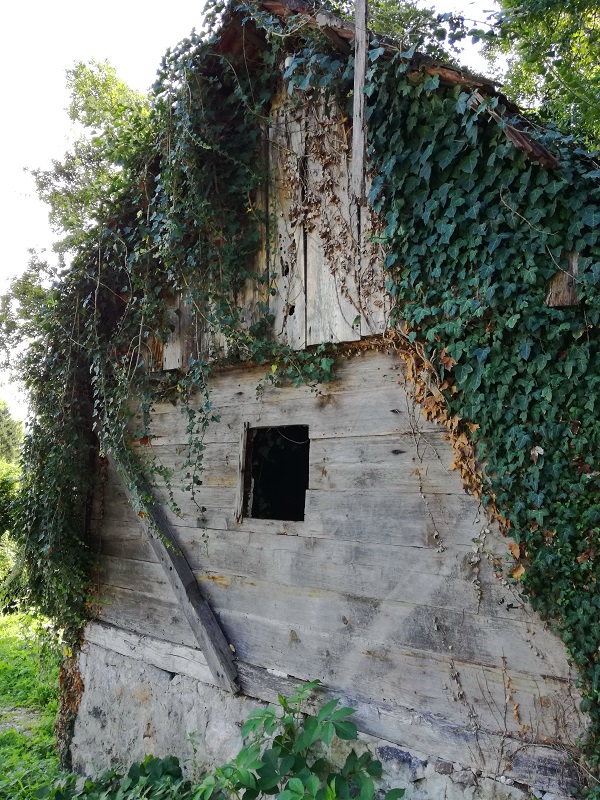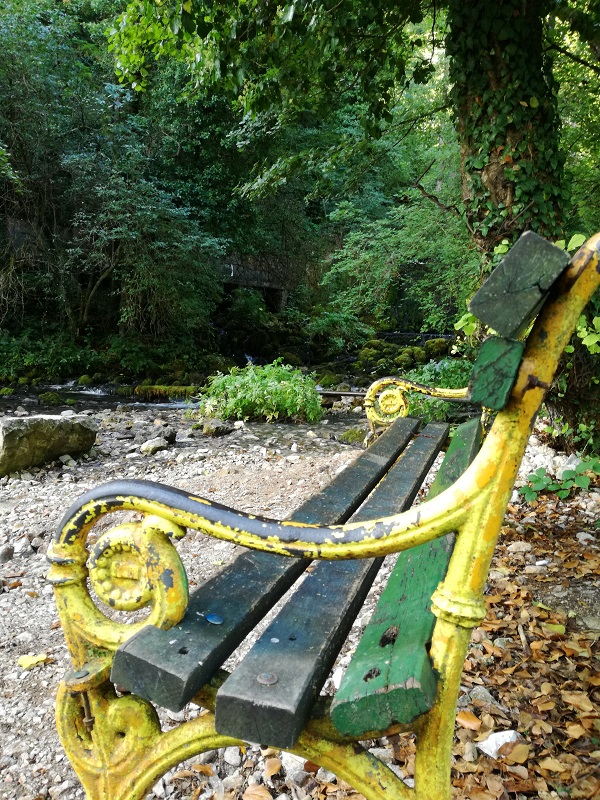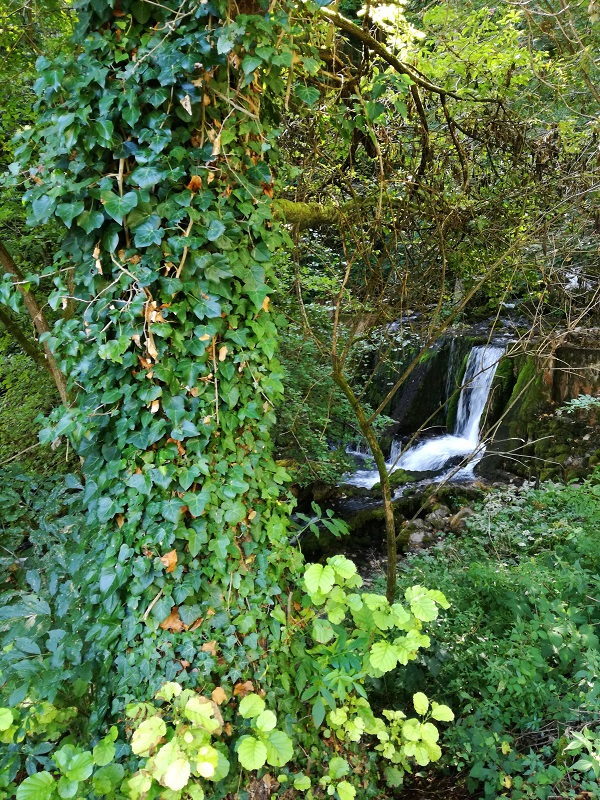 U povratku sa Tare i Perućca ne propustite čuvenu "Kućicu na Drini" u Bajinoj Bašti, na koju gleda kafana "Kod dve lipe". Kuća na steni je svetski prepoznatljiva turistička atrakcija, a podigao ju je 1968. Milija Mandić zvani Gljiva. Nabujala Drina 7 puta je rušila i odnosila brvnaru, a Milija ju je 7 puta obnovio – poslednji put 2011. godine.
Ukoliko idete ka Beogradu iz Bajine Bašte, ali preko Uba i Valjeva a ne Ibarskom, obratite pažnju na još jednu zanimljivost za kraj: u selu Sedlari blizu Valjeva nalazi se izvesni kafe Paris, a ispred njega – replika Ajfelovog tornja!  🙂
Mountain Tara for beginners: bears, spruce, blackberry liqueur, and badly marked but beautiful hiking trails
'Possibility of encounter with a bear', 'Brown bear country', 'Hike at your own risk' – we were seeing those kind of info signs everywhere, at every walking path at Mountain Tara…It is also written that the possibility of encounter with a bear is very small, but that doesn't encourage much. At least not me. What bothered me most was the fact that info signs say that, in case of seeing a bear, one must not make any sound or movement, but on the other hand, locals told us a completely opposite story: in case of the encounter with a bear, one should make as much noise as possible, in order to scare the animal away.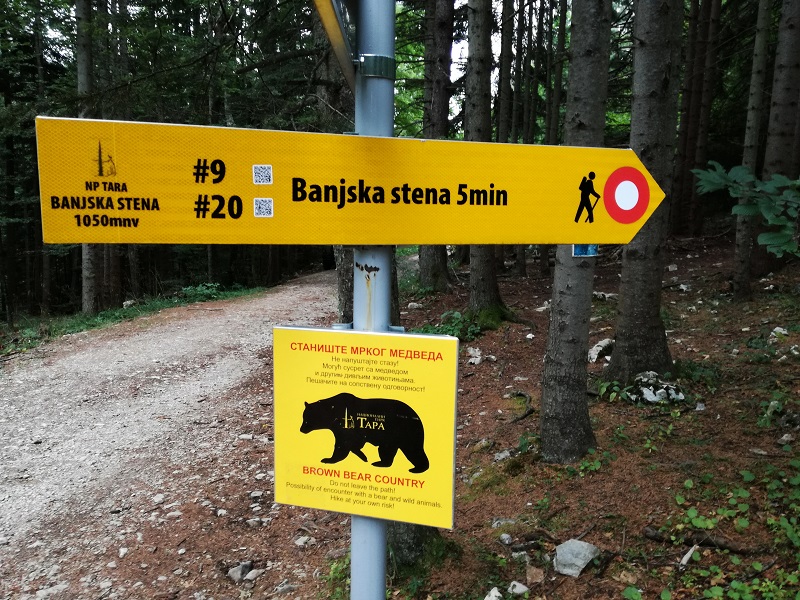 So during the first hiking day I walked through the woods staring at every bigger stone and tree stump, and it seemed to me that I see a bear; I was also listening sounds very carefully, and at the moments I was sure that I heard a bear…It makes me laugh when thinking about it now, but after so many warning signs all over the place, you just can't help but thinking constantly about bears, when you happen to be at Tara.
We've been taught at school that bears hibernate during winter, but definitely it turns out they do not, because the winters are not that cold anymore. Before I went to Tara, a friend of mine who's got a weekend cottage there told me: 'You absolutely don't have any reason to be worried. All those bears have been microchipped!' Great! So, there will be no doubts which one exactly ate me. That really makes a difference, thank you…
But, joking aside, in 2006 Tara National Park and Faculty of Biology in Belgrade started a project of microchipping and satellite tracking of the Tara bears. Brown Bear, the largest European predator, is a protected species, and their population at Tara has increased over the last years to about 40 individuals. Brown Bears are searching for food usually during the night time, and there have been some records that last year bears used to sometimes come close to Tara villages and make damage at private properties, but no daily encounters with bears have been recorded for a long time.
Locals actually say that there are more reasons to be afraid of wolves and wild boars at Tara, adding, though, that you are completely safe if a dog is around you while hiking.
Anyway, I finally decided that I won't be scared, and what helped me make that decision is a beautiful scene that I've seen during my first winter hiking day at Tara – while we walked through the forest, two roe deers ran out right infront of us!
I say 'winter hiking day' because I've already visited Tara last summer for one day on my way back from Perućac lake. Back then we went to the Banjska Stena viewpoint, but it was so foggy that we weren't able to see anything – not even the hint of a beautiful landscape that showed up before our very eyes during this sunny winter day.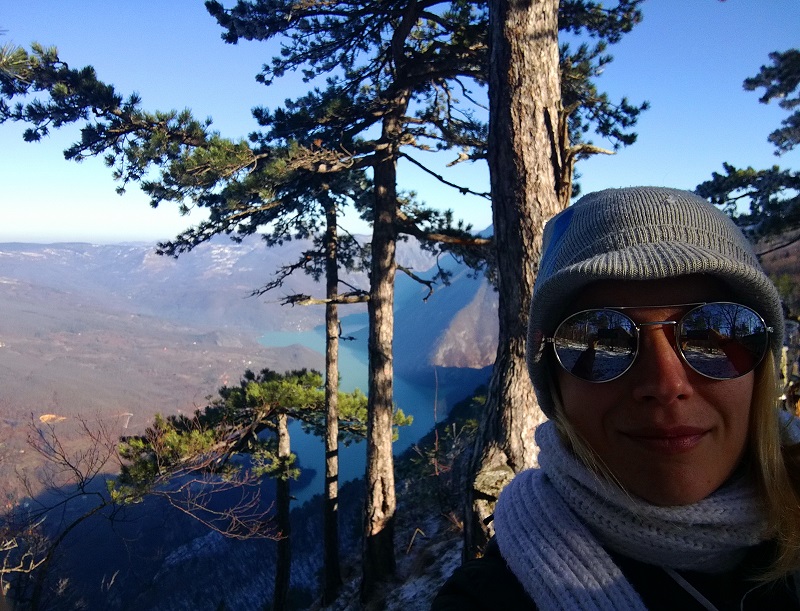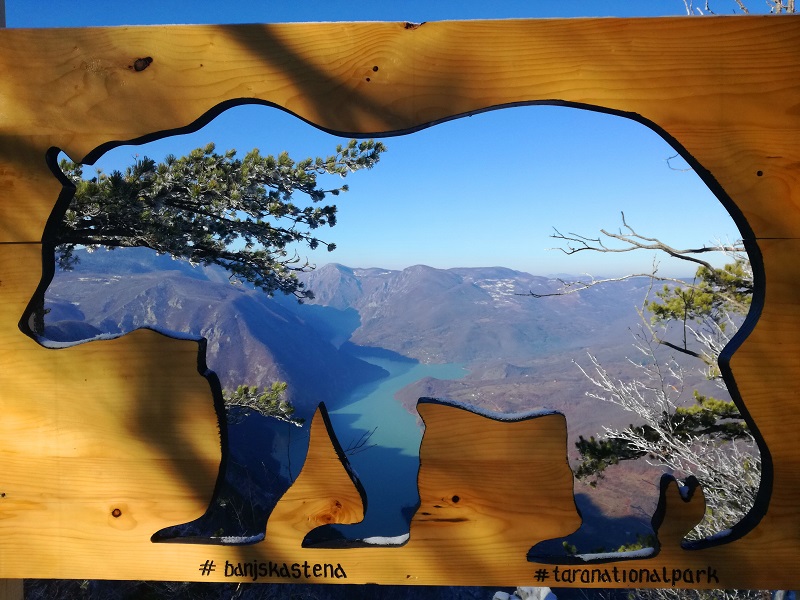 In one word Tara is – stunning! It is somehow half-wild, with a huge touristic potential which hasn't been exploited at all, but exactly that makes Tara attractive to visitors like me – those visitors who love untouched nature and hiking.
The other side of the coin is the extremely bad road marking and signalization at Tara, so one can spend hours in the car driving around without any idea of where to go. Rare info signs are placed illogically, and they are rather confusing than helpful.
Even the hiking paths are marked quite badly: it often happens that from a place where a red mark is (a tree or a stone that is marked), it's not possible to see the next red mark towards which you should go…and that means possibility of being lost or having difficulties in finding the right path…and since night and fog can occur in just a few minutes in the mountain forests, being lost means possible danger…
Anyway, despite some bad sides, Tara is the place I'll be coming back to, for sure, because it also offers a lot of fascinating experiences: forests, lakes, beautiful viewpoints, as well as a stunning view of the Drina river in the foothills.
It's impossible to go around the whole National Park during one visit, because it spreads over 25 hectares, so I'll be writing only about the two most popular 'centers' of Tara – Kaludjerske bare and Mitrovac.
To distinguish them: at Kaludjerske bare you will find hotel Omorika, which used to be one of the most modern hotels back in the days when it was built in 1977, while Mitrovac is a 'center' close to the Banjska Stena viewpoint and Zaovine lake.
Average hight of Tara is 1000-1200m, and the highest peak is Kozji Rid at 1591m above sea level. The mountain is covered with the mixed forests of spruce, fir tree and beech, while the large number of relict and endemic species make this mountain unique among other mountains of the Balkan Peninsula. Serbian Spruce (Picea omorika or Pančićeva omorika, named after the Serbian scientist Josif Pančić who discovered it) is of the special value and importance, because this endemic and relict species, which inhabits canyons and ravines of the middle course of the Drina River, managed to survive the last ice age.
Many people somehow associate Pančićeva omorika with Kopaonik mountain, because famous scientist Josif Pančić is buried there, as well as there's a well known Kopaonik's peak named after Pančić, but Picea omorika actually doesn't grow at Kopaonik at all, it's been growing only at Tara. Pančić has heard about it once, during his visit to Užice area, but he hasn't been able to find it back then, and he didn't succeed for the next 20 years. He found Picea omorika in 1875 near Zaovine village, after two decades long search. Tara's famous endemorelict Pančic's grasshopper (Pyrgomorphella serbica) has also been named after the great botanist.
Our accomodation at Tara was in Račanska Šljivovica, a village with great location, on the road between Kaludjerske bare and Mitrovac.
Račanska Šljivovica is surrounded by many interesting easy hiking trails, suitable even for people who don't have a good fitness level. Near village you will find the lake and the dam named Jarevac, and there you will see road signs for few hiking paths.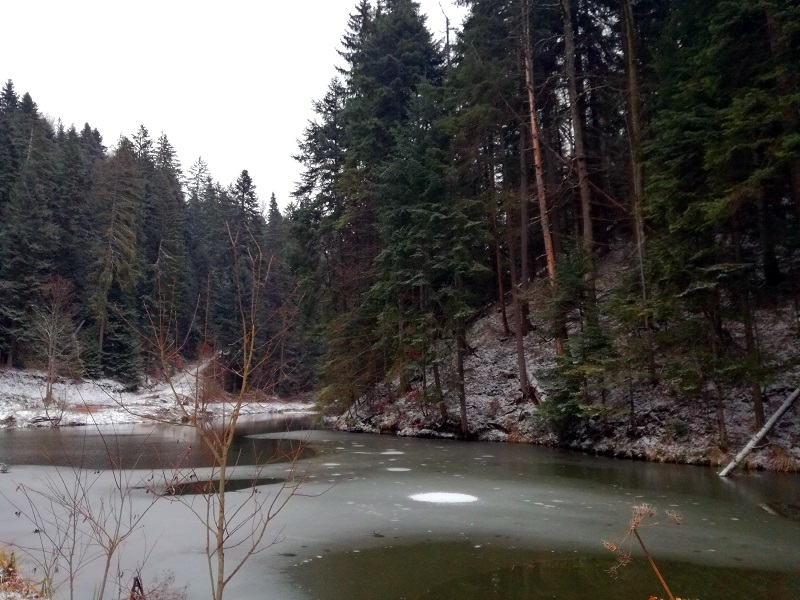 f you follow the path towards Mitrovac (to the left) you'll come across a World War II monument dedicated to the troop of Yugoslav Partisans of that area – that's the place from which they went to the battle in 1941.
A few kilometers further is a very nice viewpoint Sokolarica, from which you can enjoy the view of the Rača river canyon.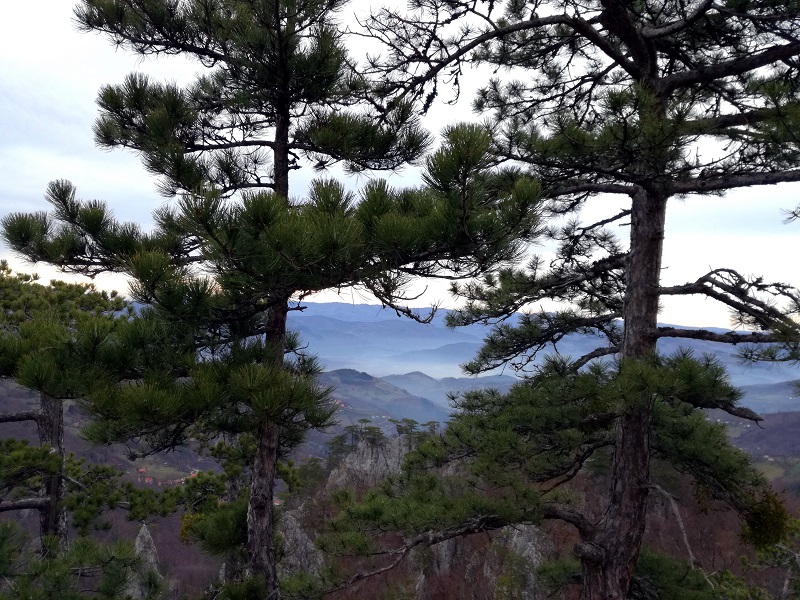 The most interesting hiking path (and a bit longer) goes to the right from Jarevac, along the stream, all the way to Omorika hotel.
If you take that route, or if you somehow happen to be near Omorika, keep in mind that there's a restaurant Javor next to it– warmest recommendation for the lunch at Kaludjerske bare. The Javor's interior will make you feel like a time machine sent you 3 decades back, but what gives this restaurant a specific charm is actually the atmosphere of the 80-ies in Yugoslavia. The place is very comfy, waiters are extremely polite, and the food is perfect, homemade.
There is a ski club 'Sunačana padina' at Račanska Šljivovica with a little slope for beginners, but it wasn't working when we visited since there was no snow, but the house next to the slope is very interesting, like it has been painted in aquarel.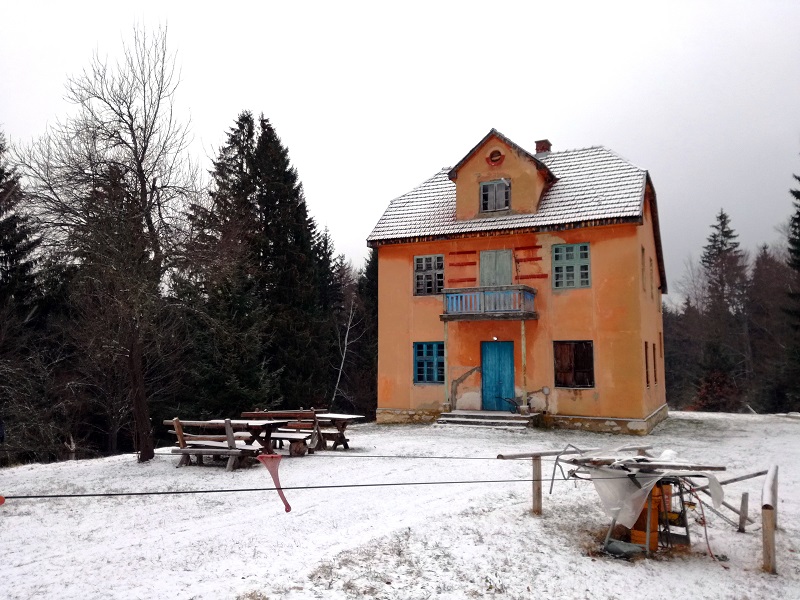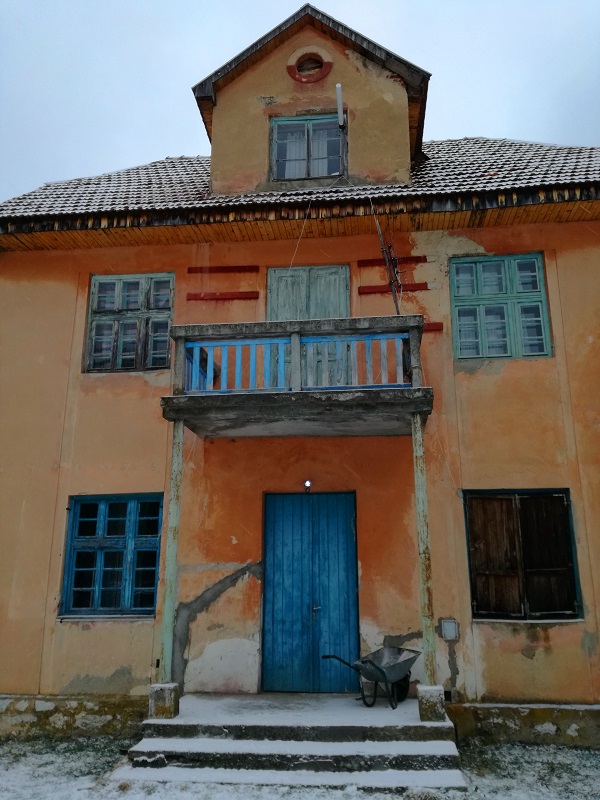 It takes 20 minutes by car from Račanska Šljivovica to Mitrovac, and if there, make sure you don't miss Banjska stena viewpoint as well Zaovine lake, suitable for swimming during summer.
In case you'd like to bring home some souvenirs from Tara, you can buy it at Mitrovac or in front of Omorika at the souvenir shops, but you'll find the same disadvantage here as well as at almost every touristic place in Serbia: the lack of nice souvenirs which would really remind you to the place they came from. Instead, you'll find a lot of wooden objects decorated with pictures of Mickey Mouse and other cartoon characters. Even though bears are a trademark of Tara, there are almost no images of bears on souvenirs (except the one from Masha and the Bear cartoon, together with Masha of course), but there are a lot of souvenirs with owls. I asked the saleslady why is there so many owls since these birds are definitely not the first thing that crosses one's mind when on Tara (few species of owls live at Tara, though). And she told me: 'You wouldn't believe how often tourists ask for owls. For years now they are constantly asking for anything that has an owl on it, people just love those birds and so we make that kind of souvenirs'. Her answer hasn't surprised me at all, since the first thing that a tourist can notice in Serbia is a lack of nice souvenirs, because manufacturers often make only what "people ask for", no matter if it's something completely pointless.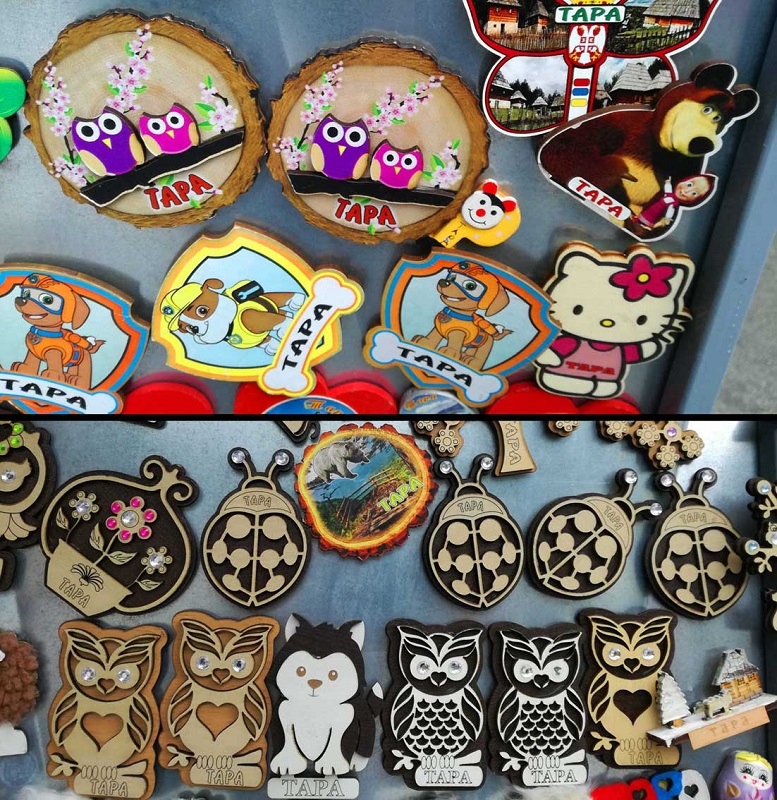 But, there are some other awesome things that you can bring home from Tara, and those are homemade products such as raspberry and blackberry liqueurs, blackberry wine, wild strawberry jam, numerous great homemade rakias, honey, and my favorite– nettle seed in honey, which I've recently discovered while hiking at Homolje.
If you are not staying at Tara but you're just happen to be around, you can also arrive to Mitrovac by the winding road from Perućac. The road is full of rocks which fell from landslides, but the fear of stone falling to your car will be vanished by the breathtaking view of the Drina river, which you can experience on few viewpoints along the way.
We took that road last summer when we first visited Tara, after a fantastic weekend spent at the raft house on Perućac lake.
Visiting Perućac is definitely one of the top recommendations for summer! We rent a raft and arrived during the night, so we could have just anticipated the beauty of the landscape…but when we saw the stunning scenery in the morning – the feeling was overwhelming. I must honestly say that I can't remember the more beautiful morning view in years, and since long time ago I haven't experienced the kind of relaxation I felt at Perućac. The lake is cold, but swimming is possible in July and August, and also there is a possibility to rent a little boat. As we could've noticed, raft houses were mostly occupied by fishermen, but there is also a pontoon "beach" available for all visitors who are not staying at the raft houses.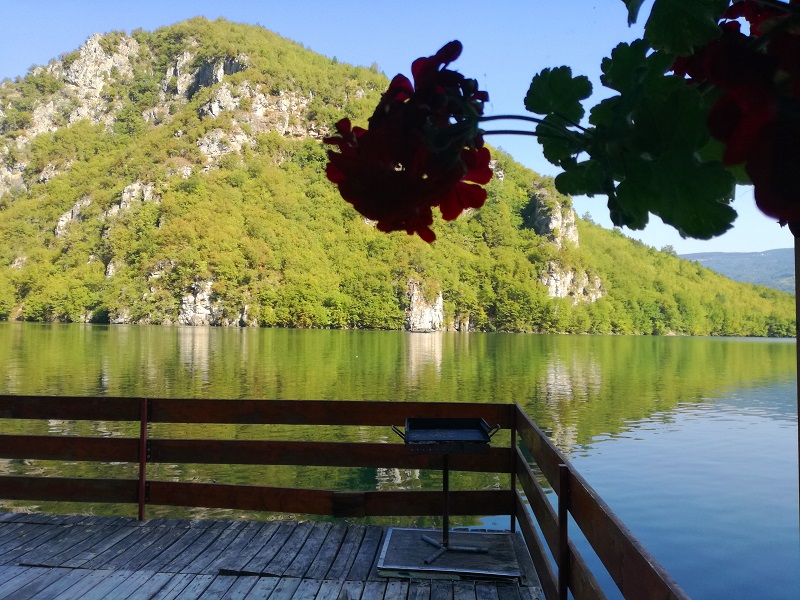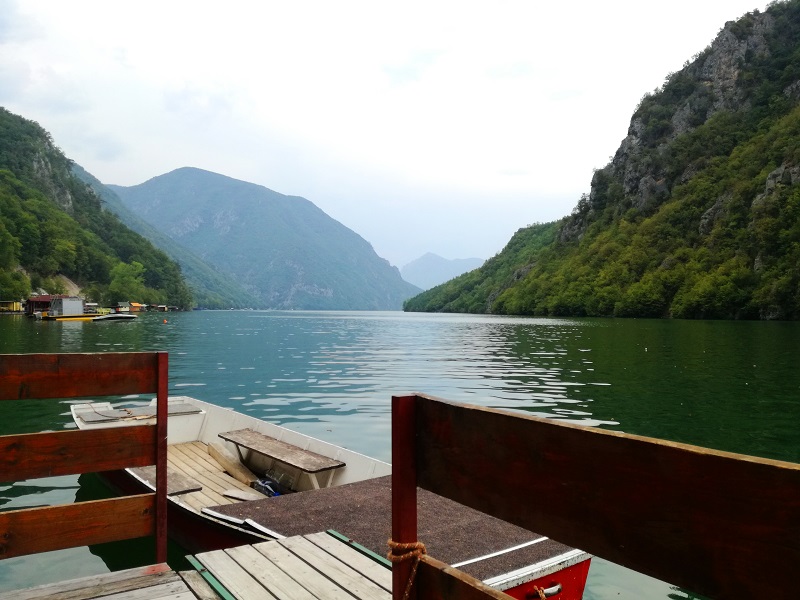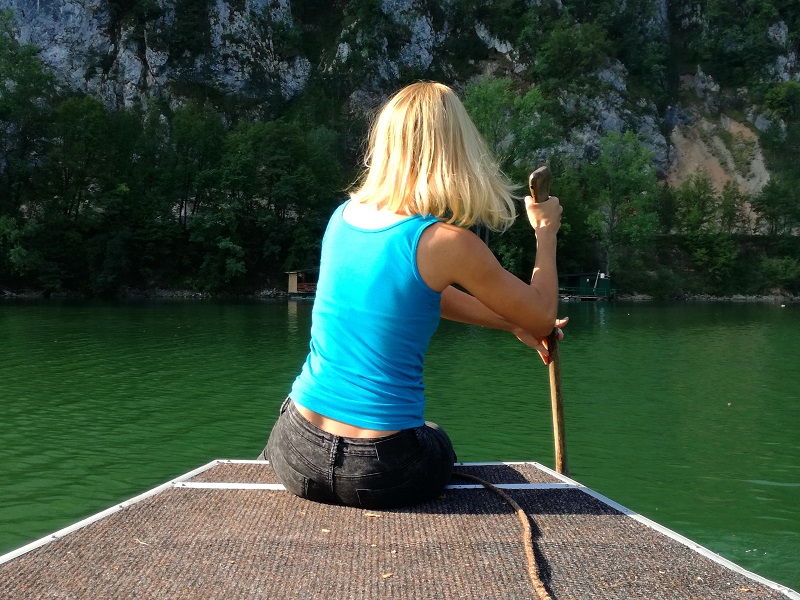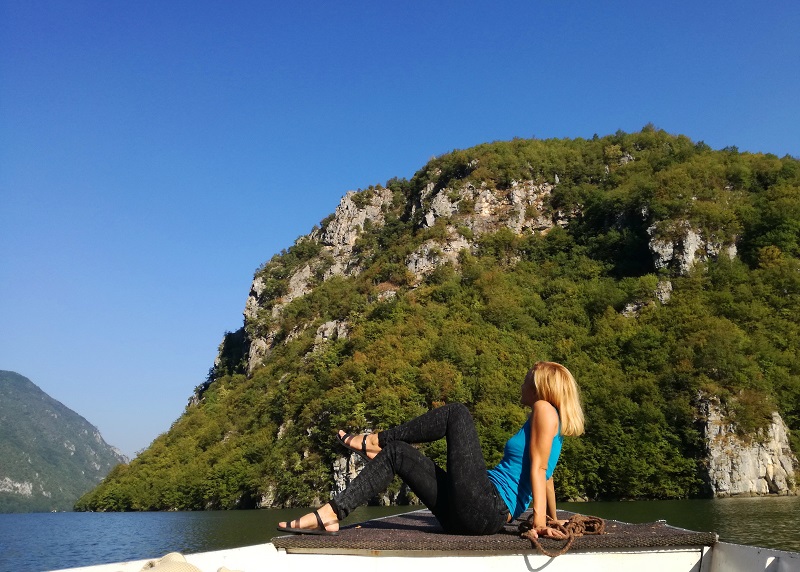 Perućac is an artificial lake made in 1967 when the Drina river was dammed for the purposes of building the hydroelectric power plant Bajina Bašta. Its 89 meters high dam is the biggest in Serbia. The village of Perućac is known for the Vrelo river, one of the shortest rivers in Europe. It is only 365 meters long, so locals also call it – Godina (meaning The Year). Vrelo river flows into the Drina by making the 10 meters high waterfall, and there is a nice restaurant also named Vrelo exactly above the waterfall.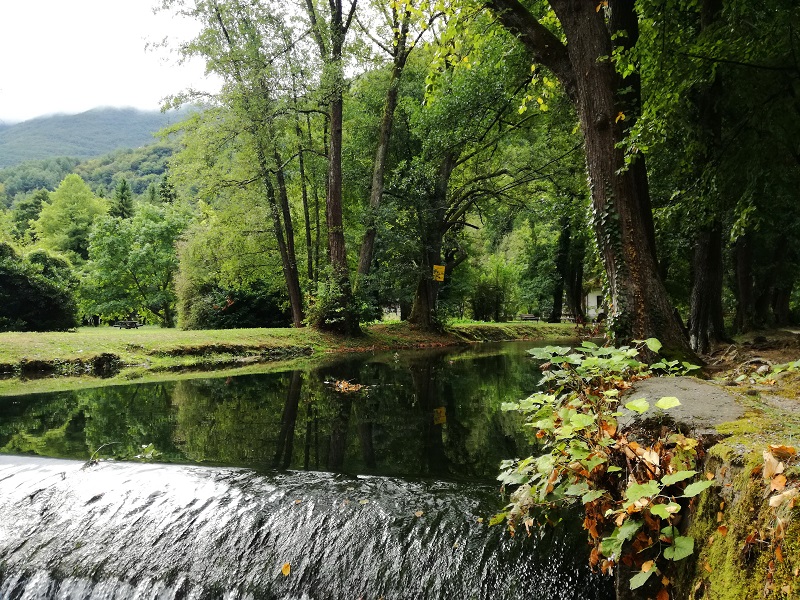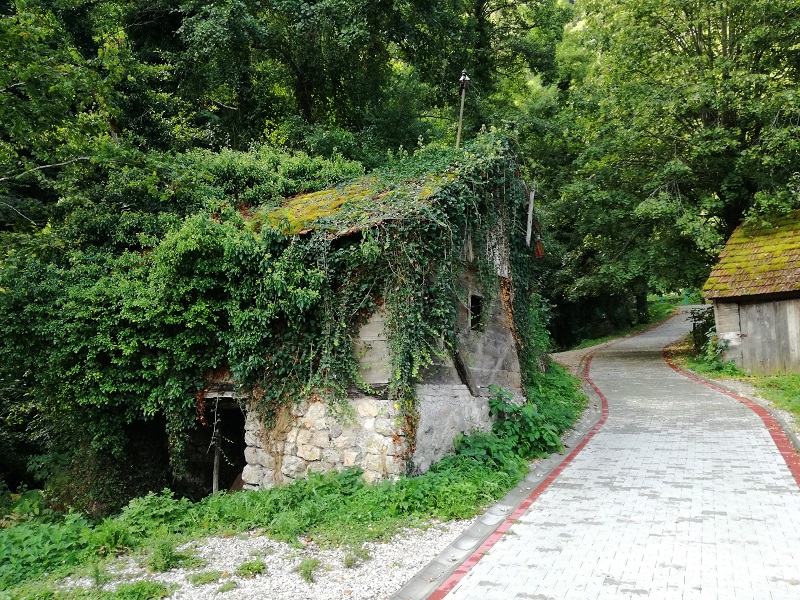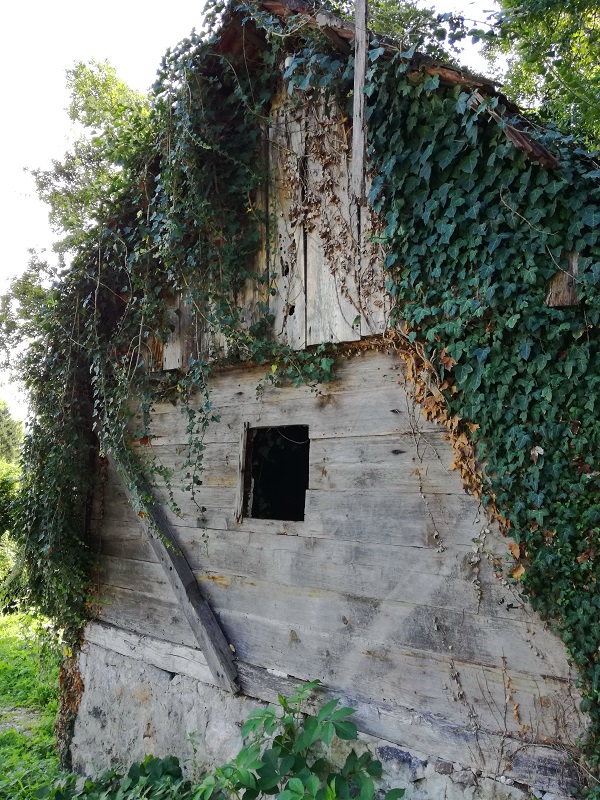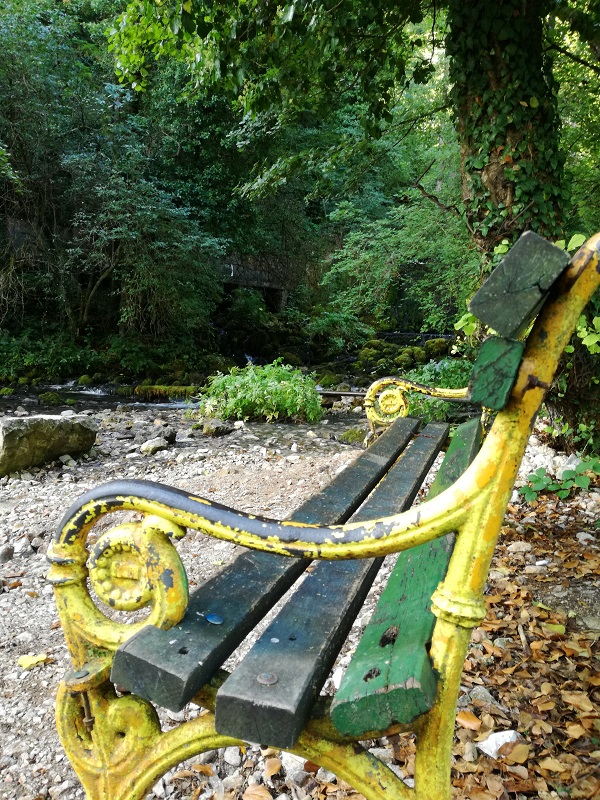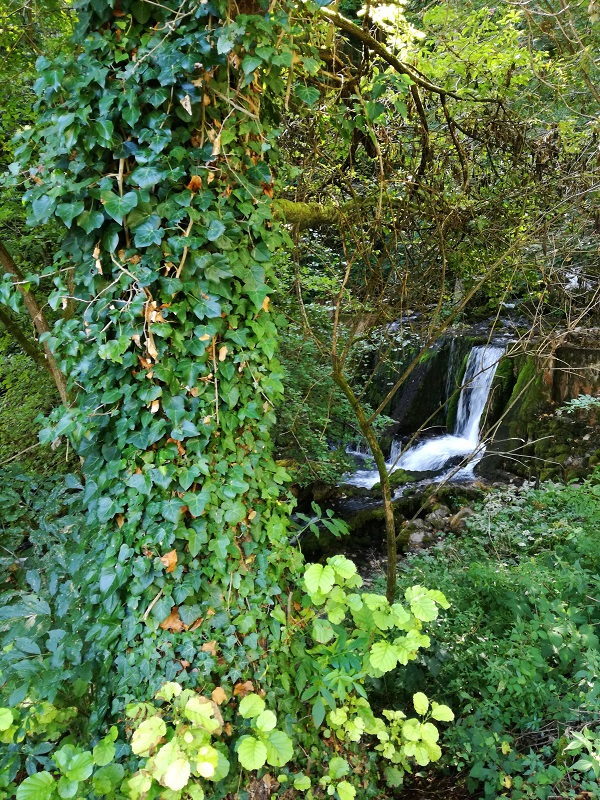 Make sure you don't miss the well known Drina river house on your way back from Tara and Perućac. The famous cottage is situated on the rock in the middle of Drina river near the town of Bajina Bašta (next to the restaurant Kod dve lipe). This little house is a world known turist attraction, built by a local man called Milija Mandic. Swollen Drina river destroyed the cottage 7 times, and Milija built it up 7 times again, the last time in 2011.
In case you're traveling towards Belgrade via cities Valjevo and Ub, pay attention to one more interesting landmark: there is a Cafe Paris in the village Sedlari, near Valjevo, and the Eiffel Tower replica in front of it. 🙂